Constant Pressure Systems
Whether you have a municipal system or a private well, London Pump Supply Ltd. teams up with Franklin Electric to provide solutions for insufficient water pressure.
Typical water pumping systems use a single-speed motor and pump. As you use water, your pressure decreases until the pressure switch initializes and turns on the pump to increase pressure. At the same time, as demand increases, the pump speed stays the same. Both of these result in pressure fluctuations and potentially weak water flow at times.
Franklin Electric constant pressure systems will add value to your home and help you use water more efficiently. It will be possible to run the shower, wash the laundry and water the garden, all at the same time – with increased pressure and consistent pressure.
The SubDrive line by Franklin Electric is like "cruise control" for your water system. It provides consistent water flow and constant pressure.
Products we offer include:
SubDrive Constant Pressure Variable Frequency Drives (VFD)
Franklin Electric 's constant pressure controllers use state-of-the-art technology to provide constant water pressure through variable speed control of submersible water well pumps.
Applications include:
Residential homes
Restaurants
Farms
Schools
Car washes
Landscape irrigation systems
Benefits include:
Constant, smooth water pressure as opposed to fluctuating pressure with traditional pressure switches.
Utility savings as the pump does not run at full speed constantly.
Easy, plug-and-play installation.
Can eliminate the need for larger, expensive tanks.
Pump protection features such as:

Soft-start feature prevents water hammer and increases motor life.
Pump run dry prevention.
Rapid cycle prevention.
Under/over voltage protection
Input power protection
Wet floor and broken pipe detection sensors.
SubDrive Utility
The SubDrive Utility offers an easy plug-and-play installation for existing systems. These systems replace your existing pressure switch and do not require any need to change your existing pumps or plumbing.
They can be used on submersible motors including 2 and 3 wire applications in 115/120V or 220/230V as well as for surface motors including 115/120V or 220/230V applications.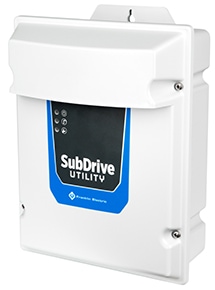 SubDrive / MonoDrive Connect
This system includes all the features of the SubDrive Utility but includes some more advanced features. The main difference is that it enables connection to be made with a single WiFI device (smartphone or tablet).
The connection can be used to monitor system characteristics including PSI, Hz, amps and volts, adjust advanced settings and view or email fault history and configuration changes. This is commonly used for agricultural or commercial applications.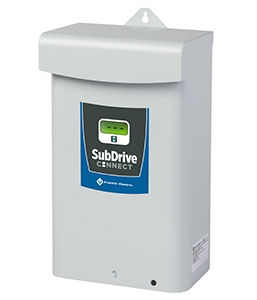 Contact our experts today!
Contact London Pump Supply Ltd. by phone locally at 519-457-5519 or toll-free 1-855-639-5519 or email us at info@londonpumpsupply.ca to learn more about our products, installation and repair services.