Deep Well Jet Pumps
London Pump Supply Ltd. are the well and water pump experts in Southwestern Ontario. With over 35 years of meeting the water pump needs of our residential, agriculture and commercial customers, we are confident that we can provide you with the exact pump to meet your precise specifications. Whether you are looking for a new pump installation or your current model is not providing you with enough water, we have a pump for you.
If we don't have what you need in our extensive inventory, we have access to pump suppliers around the world and can order the exact pump to meet your needs. Below are a few examples of the jet pumps we carry:
Franklin Electric C Series deep well convertible jet pump
For superior quality and performance in your deep well application, this Franklin Electric C Series pump is a sure bet. Convertible for deep or shallow well applications, this ruggedly constructed pump delivers up to 16 g.p.m. and is available in ½ HP or ¾ HP models.
Heavy-duty cast iron construction for long life
Stainless steel impeller for high performance
Screw-in injector for easy conversion from shallow to deep well installation
Motor with stainless steel shaft for direct mounting of impeller
Flows to: 16 g.p.m.
Maximum suction lift: 120 ft.
Unlike big box store branded pumps, Franklin Electric pumps are easily repairable and built for long life. London Pump Supply Ltd. stocks the repair kits for these units and our experienced, factory trained technicians can repair or trouble shoot these units to get your pump back up and running.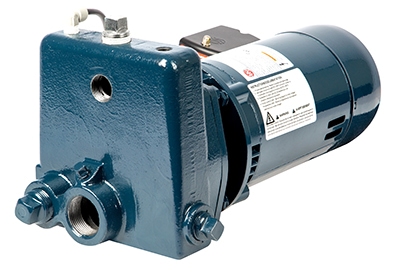 Need us to install or repair on-site – no problem we have the license to do so!
Did you know? In the Province of Ontario, only valid holders of a Well Contractor licence or Well Technician licence issued by the Ministry of Environment are allowed to conduct work on your well or the equipment attached to it? Our technicians are fully licensed according to these provincial regulations. Call us today to experience the difference that qualified and certified pump professionals can make on the performance of the water system for your home, farm or cottage property.
Contact our experts today!
Contact London Pump Supply Ltd. by phone locally at 519-457-5519 or toll-free 1-855-639-5519 or email us at info@londonpumpsupply.ca to learn more about our products, installation and repair services.