Floats, Alarms and Accessories
Keeping your property dry is our priority. London Pump Supply Ltd.'s inventory contains a wide range of indoor or outdoor control panels, floats, high water alarms, junction boxes, check valves and fittings for your residential and light industrial sump pump and sewer pump applications.
Some of the products we carry in our vast inventory include:
Floats
We stock a large selection of floats for sump and sewage applications ensuring that your pump will be activated as the liquid level rises. Our float switches are designed to work in non-potable water and sewage applications and our vast inventory includes:
10' – 50' floats; piggy-back style floats for easy installation with most applications. These are available in pump down or pump up applications.
Vertical float switches designed to work in applications where space is limited. These switches feature:

Heavy duty contacts
Mounting bracket and hose clamp attachments
Adjustable pumping range of .75 to 6.5 inches
Five year warranty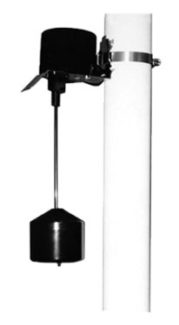 Check valves
Check valves are an important part of your sump or sewage system as the stop wastewater from flowing back into the basin. When these valves shut, they can make a loud noise that can often be heard throughout the house. To stop this problem, we recommend the installation of quiet check valves or "soft close" check valves. We sell them in 1 ½ – 3" models.
Tank Alert XT indoor/outdoor tank alarm
Tank Alert XT alarm, manufactured by SJE Rhombus, provides audio/visual warning of potential threatening liquid level conditions in sump pump basins, holding tanks, sewage, agriculture and other non-potable water applications.
Features include:
Automatic alarm reset
Horn silence switch and alarm test switch
Alarm system (when installed on a separate circuit) operates even if pump circuit fails
APak indoor system
The APak indoor alarm system manufactured by the Zoeller Pump Company is compact and easy to install. The alarm system sounds a horn when a potentially threatening liquid level condition occurs.
Features of this system include:
NEMA 1 enclosure
High water and low battery LED and alarm
Silence/reset button
Power supply with 6 ft cord
Contact our experts today!
Contact London Pump Supply Ltd. by phone locally at 519-457-5519 or toll-free 1-855-639-5519 or email us at info@londonpumpsupply.ca to learn more about our products, installation and repair services.