Submersible Pumps
For over 35 years, London Pump Supply Ltd. has been providing trusted water solutions for residential, farm and commercial customers across Ontario. We stock a large selection of submersible well pumps and our factory trained and experienced technicians can find a pump that will meet your exact specifications. If we don't have what you need in our extensive inventory, we have access to pump suppliers around the world and we can order the exact pump to meet your needs.
Submersible pumps are more versatile than jet pumps as they can meet water demand requirements for a wide range of variables including volume of water needed on your property, desired pressure and well depth.
Some of the submersible well pumps we carry include the Franklin Electric 4" Series V pumps.
Franklin Electric 4″ Series V pump
The Franklin Electric 4″ Series V pumps feature unique hydraulics that improve efficiency and minimize wear even when pumping abrasives.
Features of this submersible pump include:
Discharge and motor brackets are available in 300 series stainless steel or high quality thermoplastic resins
Removable internal check valve
Powered by Franklin Electric corrosion-resistant super stainless 4" submersible motors with lightning protectionHorsepower ranges: ½ HP to 5 HP
Heads to: 1300 ft
Flows to: 25 g.p.m.
5 year warranty direct through London Pump Supply Ltd.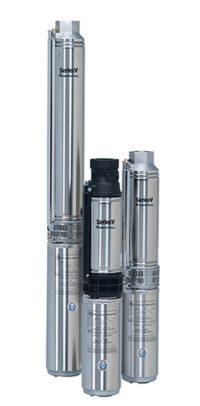 Need us to install or repair on-site – no problem we have the license to do so!
Did you know? In the Province of Ontario, only valid holders of a Well Contractor licence or Well Technician licence issued by the Ministry of Environment are allowed to conduct work on your well or the equipment attached to it? Our technicians are fully licensed according to these provincial regulations. Call us today to experience the difference that qualified and certified pump professionals can make on the performance of the water system for your home, farm or cottage property.
Contact our experts today!
Contact London Pump Supply Ltd. by phone locally at 519-457-5519 or toll-free 1-855-639-5519 or email us at info@londonpumpsupply.ca to learn more about our products, installation and repair services.