Sump Pump Battery Backups
Every home needs a sump pump to protect it from the catastrophic impact of flooding. However, when the power is out, a standard sump pump can't do its job. That's why a sump pump battery backup is the best way to protect against basement flooding from the sump pump pit.
Our highly skilled and specialized team at London Pump Supply Ltd. always recommend a battery backup into sump pump pits, for the following reasons:
If the power goes out, the pump will kick on and remove water.
It acts as an independent, secondary, separate pump so if your main pump fails, the battery backup will kick on and remove water.
It has a high water audible alarm on it, so when the water gets above your main pump, the battery backup knows something has gone wrong and alerts the home owner so they can call us immediately to resolve the issue before any problems arise.
At London Pump Supply Ltd., we recommend one of two Myers MBSP battery backup systems; the Myers® MBSP-2 and the Myers MBSP-3. These systems are designed to serve as a back-up to primary residential sump pumps in the event of pump or power failure. If primary pump failure occurs, a built-in alarm activates the warning buzzer and a separate float switch will automatically start the back-up system, thereby protecting against damage.
Myers MBSP-2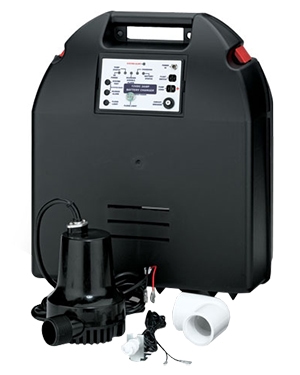 The MBSP-2 is our best selling backup system for residential applications. London Pump Supply Ltd. has been confidently selling this product for over 20 years to protect homeowners' basements from flooding. It's features include:
12 V back up sump pump can provide up to 3.5 days, 7,000 gallons capacity on battery life*
User friendly controls and monitoring panel
Modern, space saving design
Smart charging technology
Audible alarm to alert when the backup pump has been ignited either from a power outage or sump pump failure
1 year warranty provided through London Pump Supply Ltd.
Myers MBSP-3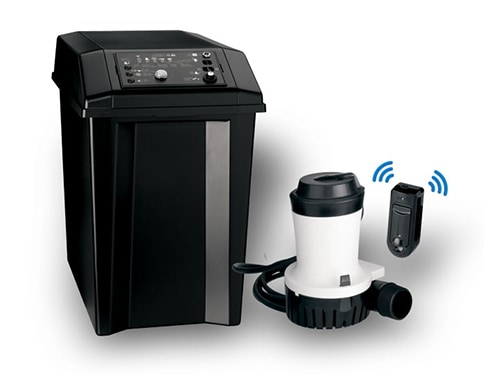 The Myers MBSP-3 is for homeowners who believe they need a larger, more robust backup due to their large water demands or who want constant monitoring technology. Its features are the same as the MBSP-2 with the following enhancements:
Battery life capacity is boosted to 6 days, 11,500 gallon capacity*
Remote monitoring capability using Pentair Home app. This app will provide you with notifications to keep you informed of potential problems and you can access system status anywhere anytime.
2 year warranty provided through London Pump Supply
*Based on discharging a 20 gallon sump pit 4 times per hour. See attached spec sheet.
Our preassembled battery backup package
For those who prefer to "DIY", London Pump Supply Ltd. has preassembled packages complete with the primary sump pump and battery backup unit. We incorporate the Zoeller M57 sump pump and the Myers MBSP battery backups (Model MBSP-2 or MBSP-3) to create the ultimate sump pump and battery backup system.
We simplify your DIY project and save you time by cutting and assembling all the necessary fittings and valves to your new system. Our package and service includes:
Our experts precisely cut and securely glue all necessary fittings onto the primary and backup pumps.
We use only rigid fittings – no rubber couplers.
Our professional assembly ensures optimal installation of the float switches minimizing the potential for switch failure.
The primary pump is installed with exactness ensuring for proper operation and drainage.
Includes dual check valves for superior protection. We offer upgraded quiet check valves for whisper quiet operation.
Includes a PVC union for easy removal of the system during future maintenance.
We will customize the system to meet your sump pump pit's exact specifications.
All you need to do is connect the discharge pipe.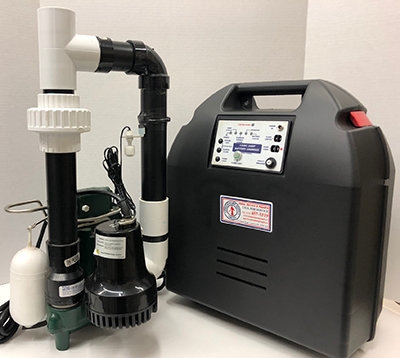 Contact our experts today!
Contact London Pump Supply Ltd. by phone locally at 519-457-5519 or toll-free 1-855-639-5519 or email us at info@londonpumpsupply.ca to learn more about our products, installation and repair services.