UV Disinfection Systems (Ultraviolet Light)
London Pump Supply Ltd. is an authorized dealer and installer of UV disinfection systems made by Viqua – A Trojan Technologies Company. VIQUA is proud to be the world's leading supplier of residential and light commercial UV water disinfection systems, providing safe water without the use of chemicals.
What are the benefits of ultraviolet technology?
Ultraviolet (UV) technology is more effective than chemicals in destroying certain waterborne contaminants without altering the taste of water. This means that UV technology is a practical process for treating water used for drinking and food preparation.
The use of UV disinfection to treat water supply is not only more effective than traditional treatments, it is also an environmentally responsible alternative. UV treatment is safe and chemical-free, as it does not produce any disinfection by-products. In addition, UV technology does not alter the water's chemistry or its constituents, such as: pH, taste, odour or colour.
A residential UV disinfection system is an affordable capital investment. This technology carries a low operational cost. For example, the ongoing energy used by a UV disinfection system in an average-sized home is comparable to the amount of energy required by a 40-watt bulb!
UVMAX D4
London Pump Supply Ltd. sells and installs Viqua's UVMAX D4 systems, an excellent water treatment solution for the average sized home, cottage or light commercial application.
Benefits of the UVMAX D4:
Equipped to inactivate chlorine-resistant parasites and harmful bacteria like E.Coli and viruses not visible to the naked eye
The high output lamp is engineered to maximize UV output
Indicator lights show the status of system components and warning lights appear when system maintenance is required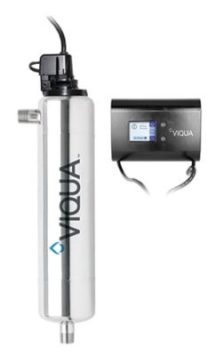 Lamps and sleeves
London Pump Supply Ltd. carries a large selection of UVMAX lamps and sleeves to keep your system maintained.
Did you know? Viqua lamps must be replaced once a year or after 9000 hours of operation. UV light weakens over time, so even though the lamp still lights up after a year, the amount of UV-C light being emitted isn't strong enough to properly disinfect your water.
Our factory trained installers can perform annual maintenance and lamp replacements to ensure your UV system's performance and integrity.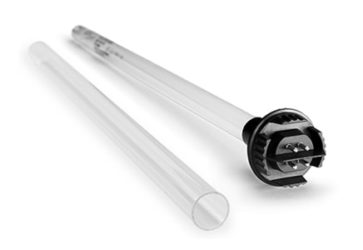 Contact our experts today!
Contact London Pump Supply Ltd. by phone locally at 519-457-5519 or toll-free 1-855-639-5519 or email us at info@londonpumpsupply.ca to learn more about our products, installation and repair services.